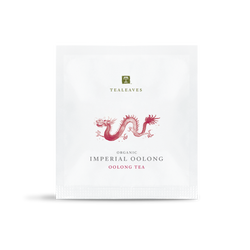 Organic Imperial Oolong
Signature Teabags | Oolong
Celebrating only the finest estate leaves. Hand-picked at dawn when flavor is at its peak. Rich and floral, let this oolong take you away to distant lands.
Organic
Contemplative
Vitamins &
Anti-oxidants
Blending Notes
Aroma

Golden orchid, floral

Palate

Mild, exquisite warm notes
Ingredients
Organic imperial oolong
Sustainability
Looking closely at our own practices, we identified waste reduction as an important area of improvement. We are committed to transitioning from linear packaging practices to circular practices. Learn More about sustainability at TEALEAVES.
Shipping & Delivery
Our Shipping and Delivery Policies for the US:
Free Standard Shipping on orders over $75.00 to the Contiguous USA. Our Standard Shipping time is 5-10 business days. Our Express Shipping time is 3-5 business days.

All-seeing eyes reflect ancient knowledge and strength. Flying where mists embrace stone, the mystical animal watches protectively over the world below.
MAKE THE PERFECT CUP OF TEA
TEALEAVES
1 Teabag
Water
16 oz
Fire
200°F
Steep
2 Min
WHAT SETS THIS TEABAG LINE APART?
Signature teabags are sealed for the highest quality in freshness, and make enough for two cups of tea.
WHAT SETS THIS SPECIFIC TEA APART?
Reflect over the nuanced flavor of Organic Imperial Oolong, with the convenience of a teabag.
Discover Culinary, Pastry & Mixology Creations
INSPIRED BY THE
TEA + COLOR + MOOD