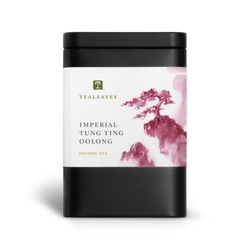 Imperial Tung Ting Oolong
Loose Leaf Tea | Oolong
Tung Ting ("Frozen Summit") varietal oolong leaves, grown in the ancient mountains of San Lan Shih.
Cleanse
Mindful
Wellness
Blending Notes
Aroma

Golden orchid, floral

Palate

Mild, exquisite warm notes

Purpose

A sophisticated moment
Ingredients
Estate oolong tea
Sustainability
Our loose leaf is packed in tins that are recyclable and can be disposed of in your blue bin. Our tins are also food-safe and can be repurposed for many things including spices and other dried ingredients. Learn More about sustainability at TEALEAVES.
Shipping & Delivery
Our Shipping and Delivery Policies for the US:
Free Standard Shipping on orders over $75.00 to the Contiguous USA. Our Standard Shipping time is 5-10 business days. Our Express Shipping time is 3-5 business days.

All-seeing eyes reflect ancient knowledge and strength. Flying where mists embrace stone, the mystical animal watches protectively over the world below.
MAKE THE PERFECT CUP OF TEA
TEALEAVES
1 Tsp
Water
8 oz
Fire
200°F
Steep
3 Min
Your FAQs, Answered
For Imperial Tung Ting Oolong
Oolong teas should be steeped for 2-3 minutes at a temperature of 200°F or 93°C.
Unlike other teas, oolong tea can be re-steeped to make multiple cups. With each re-steep, different flavour characteristics emerge that alter the teas natural palate, creating a new tasting experience for you to enjoy. Oolong teas are exquisite to experience in a yixing tea pot.
Oolong tea does contain caffeine. To illustrate, one would need to drink approximately 4 cups of oolong tea to equal the same amount of caffeine as 1 cup of drip coffee.
All tea, whether it be White, Green, Oolong or Black, comes from the same plant, the evergreen shrub Camellia Sinensis.