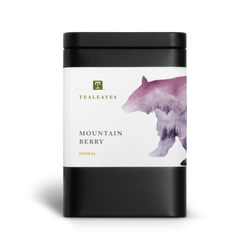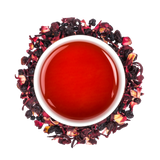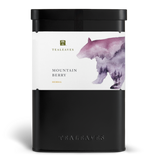 Mountain Berry
Loose Leaf Tea | Herbal
Our loose leaf Mountain Berry herbal tea is a fruity superfood blend of Saskatoon (native to Canada) berries, currants, hibiscus and rosehips, sealed with sweetness.
Aromatherapy
Mood Booster
Wellness
Blending Notes
Aroma

Fruity, jammy scent

Palate

Fruit-forward, sweet-tart

Purpose

Bring out your fun side
Ingredients
Elderberry, hibiscus, currant, saskatoon berry, and natural flavors
Sustainability
Our loose leaf is packed in tins that are recyclable and can be disposed of in your blue bin. Our tins are also food-safe and can be repurposed for many things including spices and other dried ingredients. Learn More about sustainability at TEALEAVES.
Shipping & Delivery
Our Shipping and Delivery Policies for the US:
Free Standard Shipping on orders over $75.00 to the Contiguous USA. Our Standard Shipping time is 5-10 business days. Our Express Shipping time is 3-5 business days.

Wildness reins. Ripe richness tempts fussy taste buds. A fortune reflects foraged fields of Nature's sweet harvest. Treasure is in the eye of the beholder.
MAKE THE PERFECT CUP OF TEA
TEALEAVES
1 Tsp
Water
8 oz
Fire
212°F
Steep
5+ Min
Your FAQs, Answered
For Mountain Berry
Herbal blends should be steeped for 5+ minutes at a temperature of 212°F or 100°C.
Herbal blends typically contain a variety of plant herbs, spices, flowers, roots, berries, and barks, while tisanes are typically infusions of just dried fruits and berries.
Herbal blends do not typically contain any caffeine (because there is no camellia synensis in herbal blends), although they may contain stimulating herbals such as yerba mate. It is important to always check the ingredient listing, and if in doubt about if it is safe for your consumption, consult professional medical advice.