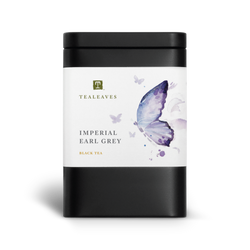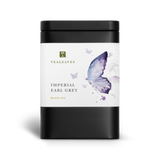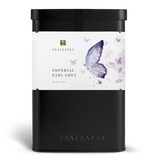 Imperial Earl Grey
Loose Leaf Tea | Black
An equal balance of bright, coppery Ceylon black tea with uplifting bergamot notes.
Aromatherapy
Mood Booster
Rejuvenating
Blending Notes
Aroma

Vibrant citrus fragrance

Palate

Rich, memorable intensity

Purpose

Magnificent joy
Ingredients
Estate black tea, natural bergamot oil
Sustainability
Our loose leaf is packed in tins that are recyclable and can be disposed of in your blue bin. Our tins are also food-safe and can be repurposed for many things including spices and other dried ingredients. Learn More about sustainability at TEALEAVES.
Shipping & Delivery
Our Shipping and Delivery Policies for the US:
Free Standard Shipping on orders over $75.00 to the Contiguous USA. Our Standard Shipping time is 5-10 business days. Our Express Shipping time is 3-5 business days.

Wings flutter like excited hearts. Wafts of wind float delicate iridescence to playful heights. Why stay earthbound when the air is filled with such joy?
MAKE THE PERFECT CUP OF TEA
TEALEAVES
1 Tsp
Water
8 oz
Fire
210°F
Steep
2-3 Min
Your FAQs, Answered
For Imperial Earl Grey
TEALEAVES Imperial Earl Grey is made with estate black tea and natural bergamot oil.
Imperial Earl Grey is TEALEAVES signature Earl Grey blend. Traditionally, regardless of the blender, Earl Grey is a black tea blended with bergamot. Not all bergamot oil is created equal, however. What Makes a TEALEAVES Earl Grey So Special?

Known for its robust flavor and citrus overtones, the delicate, fresh flavor of Earl Grey tea has withstood the test of time. But what secret ingredient is behind the uniquely bright flavor of a TEALEAVES Earl Grey? The signature palate and captivating aroma comes from the delicate infusion of pure bergamot oil.

We source straight from the sunlit orchards of Calabria, a region in Southern Italy known for producing the world's most extraordinary bergamot fruit. The natural bergamot oil is cold-pressed from the rind of citrus bergamia, the bergamot orange. Renowned for its sunny fragrance of citrus notes, bergamot oil is prized by both tea blenders and perfumeries. Uncompromising on quality, we only blend 100% natural, first-cold press bergamot oil, from the peak harvest. When the extracted oil from the rind is blended with tea leaves, the result is a distinctive and highly aromatic citrusy floral aroma and taste that is bright, alluring and lingering.

The type of bergamot oil used in an Earl Grey blend makes an immense difference. Natural bergamot essential oil has a more subtle, but well-defined flavor, with zest and a genuine citrus intensity. Conversely, synthetic bergamot is more one-dimensional, having a tendency to taste timid in the cup. With palate as the final goal, we have always chosen to use natural bergamot oil at TEALEAVES.
The estate grade Ceylon black tea that our Master Blenders choose to blend the Imperial Earl Grey with.
Like red wine, black teas pair well with bold, rich flavors. Cheesecake, brownies, chocolate cake, buttery shortbread, and so forth. The bergamot notes in Earl Grey make for an uplifting, citrusy finish.