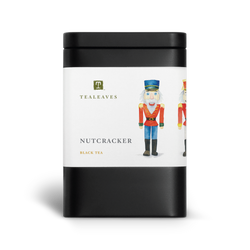 Aromatherapy
Mood Booster
Optimism
Blending Notes
Aroma

Nutty, opulent

Palate

Nutty, rich, smooth

Purpose

Indulge in the magic
Ingredients
Black tea, hazelnut, and vanilla flavors
Sustainability
Our loose leaf is packed in tins that are recyclable and can be disposed of in your blue bin. Our tins are also food-safe and can be repurposed for many things including spices and other dried ingredients. Learn More about sustainability at TEALEAVES.
Shipping & Delivery
Our Shipping and Delivery Policies for the US:
Free Standard Shipping on orders over $75.00 to the Contiguous USA. Our Standard Shipping time is 5-10 business days. Our Express Shipping time is 3-5 business days.

A crimson jacket twinkles with gold. Chivalry alive with young love. A timely slipper saves a kingdom. Sip and believe again in the magic.
MAKE THE PERFECT CUP OF TEA
TEALEAVES
1 Tsp
Water
8 oz
Fire
210°F
Steep
2-3 Min
Memories Captured: Preserving time through Food
DISCOVER A MODERN DAY DROSSELMEYER STORY

Your FAQs, Answered
For Nutcracker
Black tea should be steeped for 2-3 minutes at a temperature of 210°F or 99°C.
Black tea is the only tea group in which milk, honey, lemon and sugar pair nicely with.
Black tea does contain caffeine. To illustrate, one would need to roughly drink 3 cups of black tea to equal the same content caffeine as 1 cup of drip coffee.
Memories Captured: Preserving time through Food
DISCOVER A MODERN DAY DROSSELMEYER STORY