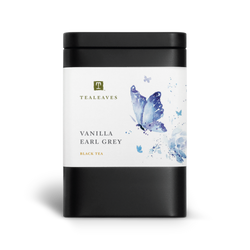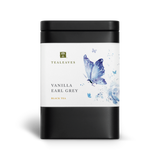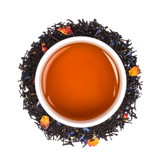 Vanilla Earl Grey
Loose Leaf Tea | Black
A creamy, full body, and fragrant loose leaf Earl Grey tea with madagascar vanilla brings an exquisite lingering finish.
Morning Ritual
Aromatherapy
Mood Booster
Blending Notes
Aroma

Sweet, citrus perfume

Palate

Tantalizing vanillin

Purpose

An uplifting, fragrant treat
Ingredients
Black tea, natural bergamot oil, Madagascar vanilla flavors, rose petals
Sustainability
Our loose leaf is packed in tins that are recyclable and can be disposed of in your blue bin. Our tins are also food-safe and can be repurposed for many things including spices and other dried ingredients. Learn More about sustainability at TEALEAVES.
Shipping & Delivery
Our Shipping and Delivery Policies for the US:
Free Standard Shipping on orders over $75.00 to the Contiguous USA. Our Standard Shipping time is 5-10 business days. Our Express Shipping time is 3-5 business days.

The enchanting pitter-patter of rain drop splatter, carried away like butterflies in the wind. Comfort and joy are close. The sweetness of life prevails.
MAKE THE PERFECT CUP OF TEA
TEALEAVES
1 Tsp
Water
8 oz
Fire
210°F
Steep
2-3 Min
Your FAQs, Answered
For Vanilla Earl Grey
We use Madagascar Vanilla when blending our Vanilla Earl Grey.
With the addition of your choice of milk or milk alternative, TEALEAVES Vanilla Earl Grey makes a wonderful latte.
We recommend pairing this blend with dishes that have a stronger palate such as cheesecake or chocolate cake with our Vanilla Earl Grey blend.