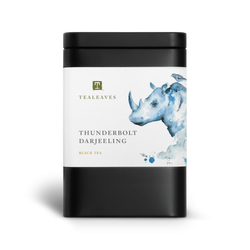 Morning Ritual
Contemplative
Pair with
Chocolate
Blending Notes
Aroma

Delicately vegetal

Palate

Nuanced, hint of muscatel

Purpose

Exuberance
Sustainability
Our loose leaf is packed in tins that are recyclable and can be disposed of in your blue bin. Our tins are also food-safe and can be repurposed for many things including spices and other dried ingredients. Learn More about sustainability at TEALEAVES.
Shipping & Delivery
Our Shipping and Delivery Policies for the US:
Free Standard Shipping on orders over $75.00 to the Contiguous USA. Our Standard Shipping time is 5-10 business days. Our Express Shipping time is 3-5 business days.

Monsoons swoop, swish and swirl in misty peaks. Rare orchids dot rugged cliffs. Mirroring lands below, hard hide and soft feathers unite in mutualistic balance.
MAKE THE PERFECT CUP OF TEA
TEALEAVES
1 Tsp
Water
8 oz
Fire
210°F
Steep
2-3 Min
Your FAQs, Answered
For Thunderbolt Darjeeling
From the Land of the Thunderbolts, the champagne of black teas. Similar to the champagne designation in France, only black teas grown in the Darjeeling region (cultivated, grown, and processed in the hilly areas of Sadar, Kalimpong, Kurseong, and Silguri) are allowed to be called "Darjeeling Tea."
Demand outweighs supply. The annual production of the entire region is approximately 10,000 tons which has led to "false" or "fake" Darjeeling, with worldwide sales exceeding 45,000 tons.
Our Thunderbolt Darjeeling is a 2nd flush. Second flush Darjeelings typically have a stronger muscatel flavor when brewed than the first flush. First flush is preferred in green teas. But in Darjeelings, it is debateable which flush is the best. Depending on the characteristics you are looking for in the palate and aroma of the tea, and if you take your tea with milk, will dictate which flush you prefer. First flush teas are known to have the most nutrients but are more delicate in flavor. This is because they are the first harvest in the spring after laying dormant through the winter. Second flush are bolder in taste and color because they continue to grow rapidly through the spring and into the summer sun, thereby being ready for harvest at a faster rate than the first flush. Third flush Darjeelings are typically not preferred as these tea leaves have gone through all of the growing seasons and the flavor profile begins to wane.