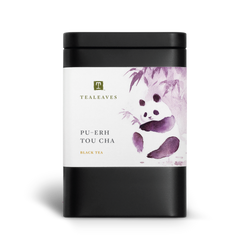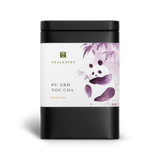 Cleanse
Digestion
Wellness
Blending Notes
Aroma

Broad & earthy

Palate

Plum-like, musty, earthy

Purpose

Contemplation
Ingredients
Aged black tea
Sustainability
Our loose leaf is packed in tins that are recyclable and can be disposed of in your blue bin. Our tins are also food-safe and can be repurposed for many things including spices and other dried ingredients. Learn More about sustainability at TEALEAVES.
Shipping & Delivery
Our Shipping and Delivery Policies for the US:
Free Standard Shipping on orders over $75.00 to the Contiguous USA. Our Standard Shipping time is 5-10 business days. Our Express Shipping time is 3-5 business days.

Life giving leaves and powerful paws define synergy. Peace and friendship, care and compassion, innocence and play ignite in single-minded focus and ultimate harmony.
MAKE THE PERFECT CUP OF TEA
TEALEAVES
1 Toucha
Water
16 oz
Fire
210°F
Steep
5+ Min
Your FAQs, Answered
For Pu-Erh Tou Cha
Referencing our "Make the Perfect Cup of Tea" instructions, take 1 Tou Cha (remove the paper wrapping), place it into a pre-heated teapot or cup, add 16 oz boiling water, and steep 5 + minutes. Respectfully, drink plain.
Pu-Erh tea is most commonly formed into bricks or cakes and traditionally used as a form of currency.
Pu-Erh is a black tea and is therefore high in caffeine, compared to green or oolong tea.