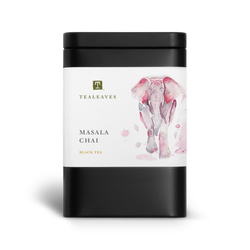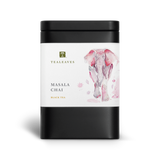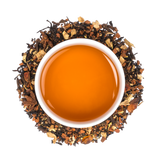 Masala Chai
Loose Leaf Tea | Black
Our Masala Chai evokes a sense of comfort through an exploration of the South Asian palate. This richly-spiced elixir is a complex meritage of Indian Assam in a flavorful dance of hand-ground spices inspired by the steaming Chai poured by the street-side vendors; Chai wallahs.
Morning Ritual
Aromatherapy
Digestion
Blending Notes
Aroma

Gingery cardamom

Palate

Decadent, rich spiciness

Purpose

A decadent journey
Ingredients
Black tea, chicory, cardamom, cloves, cinnamon bark, ginger root, star anise, licorice, and natural chai flavor
Sustainability
Our loose leaf is packed in tins that are recyclable and can be disposed of in your blue bin. Our tins are also food-safe and can be repurposed for many things including spices and other dried ingredients. Learn More about sustainability at TEALEAVES.
Shipping & Delivery
Our Shipping and Delivery Policies for the US:
Free Standard Shipping on orders over $75.00 to the Contiguous USA. Our Standard Shipping time is 5-10 business days. Our Express Shipping time is 3-5 business days.

A celebration of color caresses. Wise eyes watch, all-knowing ears alert, sultry spices swirl. Heat eddies while aromas intertwine in an ancient dance, an elixir of life.
MAKE THE PERFECT CUP OF TEA
TEALEAVES
2 Tsp
Water
8 oz
Fire
210°F
Steep
5+ Min
Your FAQs, Answered
For Masala Chai
Chai means tea. Therefore, there's no need in asking for a "chai tea", because you are simply saying "tea" twice!

The word "Masala" means a spice mixture ground into a paste or powder. Masala Chai – literally, spiced tea – is made with a mixture of aromatic Indian spices and herbs. There is generally no fixed recipe for Masala Chai tea in India and traditionally, many families have their own versions of the tea.
Life is about balance. Many drink our Masala Chai as part of their daily morning ritual (often with steamed oatmilk) or as an afternoon pick me up. If you are preparing yours with whip cream (for a decadent chai), or with a splash of spirit (for a naughty chai), well, let's be honest, that might be a bit indulgent for everyday. But listen to your body, be mindful, and if in doubt, seek professional advice from your heatlh professional.
As our Masala Chai contains caffeine, if you are caffeine sensitive you will want to pay attention to what time of day you enjoy this blend (or switch to our naturally caffeine-free Herbal Chai). Otherwise, if caffeine sensitivity is not a concern, whenever you feel like going on a decadent journey via your tea cup, or when you're feeling full (for chai's carminative properties).