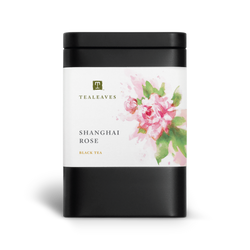 Shanghai Rose
Loose Leaf Tea | Black
Fragrant red rose petals and the sweet, sultry flavor of seductive lychee in this rose petal black tea. A bouquet in your cup!
Aromatherapy
Mood Booster
Romance
Blending Notes
Aroma

Floral rose, slight nuttiness

Palate

Medium body, lychee overtones

Purpose

Sweet romance
Ingredients
Black tea, rose petals, and lychee flavor
Sustainability
Our loose leaf is packed in tins that are recyclable and can be disposed of in your blue bin. Our tins are also food-safe and can be repurposed for many things including spices and other dried ingredients. Learn More about sustainability at TEALEAVES.
Shipping & Delivery
Our Shipping and Delivery Policies for the US:
Free Standard Shipping on orders over $75.00 to the Contiguous USA. Our Standard Shipping time is 5-10 business days. Our Express Shipping time is 3-5 business days.

Architectural marvels defying gravity hover. Charming chimes, venerable temples and alluring incense keep the old alive. Enigmatic like a dragon's spirit, the rose embodies such intricacy.
MAKE THE PERFECT CUP OF TEA
TEALEAVES
1 Tsp
Water
8 oz
Fire
210°F
Steep
2-3 Min
Your FAQs, Answered
For Shanghai Rose
As you are drinking the infusion of leaves with boiling water, and not ingesting rose petals, you can drink this tea everyday if you like. Be aware that this a caffeinated tea, so if you are caffeine sensitive then please drink moderately.
We do not add collagen to any of our teas, however rose petals are reputed to have naturally occurring anti-inflammatory properties.
Shanghai Rose should be steeped for 2-3 minutes at a temperature of 210°F or 99°C. It is only tea group in which milk, honey, lemon and sugar pair nicely with.