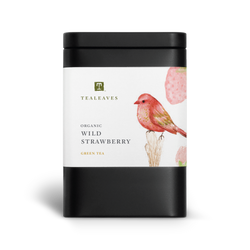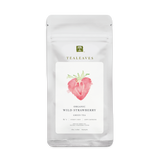 Organic Wild Strawberry
Loose Leaf Tea | Green
A refreshing "rolled and twisted" Chinese green tea infused with the sweetness of wild strawberries.
Organic
Aromatherapy
Wellness
Blending Notes
Aroma

Fruity & vibrant

Palate

Sweet, light liquoring

Purpose

Escape into strawberry fields
Ingredients
Organic green tea, natural strawberry flavor
Certified Organic by PACS
Sustainability
Our loose leaf is packed in tins that are recyclable and can be disposed of in your blue bin. Our tins are also food-safe and can be repurposed for many things including spices and other dried ingredients. Learn More about sustainability at TEALEAVES.
Shipping & Delivery
Our Shipping and Delivery Policies for the US:
Free Standard Shipping on orders over $75.00 to the Contiguous USA. Our Standard Shipping time is 5-10 business days. Our Express Shipping time is 3-5 business days.

Verdant leaves, plump red rumps, sweet aroma. The blushing present from the summer's sun allures. A juicy sweetness caresses memories long after sticky fingers are dry.
MAKE THE PERFECT CUP OF TEA
TEALEAVES
1 Tsp
Water
8 oz
Fire
180°F
Steep
1 Min
Your FAQs, Answered
For Organic Wild Strawberry
Light fruit flans and summertime desserts.
Anything grown in the wild is grown without human intervention; wild strawberries will often have a stronger and sweeter taste.
All tea, whether it be White, Green, Oolong or Black, comes from the same plant, the evergreen shrub Camellia Sinensis.