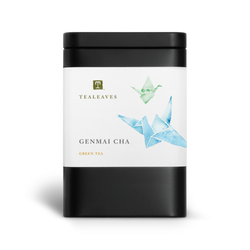 Genmai Cha
Loose Leaf Tea | Green
Toasted rice, roasted barley, and Japanese green tealeaves - popularly known as "Popcorn Tea".
Mindful
Vitamins &
Anti-oxidants
Wellness
Blending Notes
Aroma

Toasty & vegetal

Palate

Exquisite savory notes

Purpose

Comforting complexity
Ingredients
Estate green tea with puffed rice and roasted barley
Sustainability
Our loose leaf is packed in tins that are recyclable and can be disposed of in your blue bin. Our tins are also food-safe and can be repurposed for many things including spices and other dried ingredients. Learn More about sustainability at TEALEAVES.
Shipping & Delivery
Our Shipping and Delivery Policies for the US:
Free Standard Shipping on orders over $75.00 to the Contiguous USA. Our Standard Shipping time is 5-10 business days. Our Express Shipping time is 3-5 business days.

A thousand folds of complexity care. A crane over the seas melds kernel to puffed pleasure. A parallel path arrives at its final destination - Peace.
MAKE THE PERFECT CUP OF TEA
TEALEAVES
1 Tsp
Water
8 oz
Fire
180°F
Steep
1 Min
Your FAQs, Answered
For Genmai Cha
Although both Chinese and Japanese Green Teas offer immune boosting and health-giving properties, they are inherently different in terms of their palate and character. Chinese Green Tea has slightly twisted tea leaves, typically presenting a light, clean and refreshing palate, while Japanese Green Teas have flat folded leaves that often omit a nori-like, vegetal palate.
Green tea is what we like to call a self-drinker. It should be served plain with no additions, to preserve the palate it presents.
When over steeped, and prepared at the incorrect temperature, green tea releases tannins that cause the tea to taste bitter. To avoid this bitterness, green teas should be steeped between 30 seconds and 1 minute at a temperature of 180° F or 82° C.
All tea, whether it be White, Green, Oolong or Black, comes from the same plant, the evergreen shrub Camellia Sinensis.