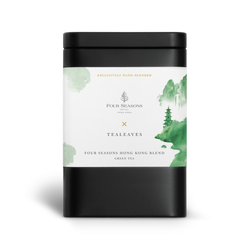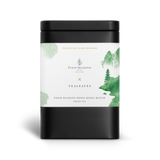 Four Seasons Hong Kong
Loose Leaf Tea | Green
Exclusively hand-crafted with a palate inspired by the picturesque Victoria Harbor and the urban culinary culture of the Four Seasons Hong Kong.
Aromatherapy
Mood Booster
Wellness
Blending Notes
Aroma

Soft floral notes, vanilla

Palate

Sweet, graceful character

Purpose

Enriched moments
Ingredients
Green tea, vanilla, jasmine, and lavender
Sustainability
Our loose leaf is packed in tins that are recyclable and can be disposed of in your blue bin. Our tins are also food-safe and can be repurposed for many things including spices and other dried ingredients. Learn More about sustainability at TEALEAVES.
Shipping & Delivery
Our Shipping and Delivery Policies for the US:
Free Standard Shipping on orders over $75.00 to the Contiguous USA. Our Standard Shipping time is 5-10 business days. Our Express Shipping time is 3-5 business days.

Golden jasmine blossoms unite with French lavender and soft vanilla to perfume estate green tea. Reminiscent of the fragrant harbour; a philosophy of east meets west.
MAKE THE PERFECT CUP OF TEA
TEALEAVES
1 Tsp
Water
8 oz
Fire
180°F
Steep
1 Min
Your FAQs, Answered
For Four Seasons Hong Kong
Estate grade Chinese Green Tea.
There is a subtle creamy sweetness from the Madagascar Vanilla Bean.
Four Seasons Hong Kong Custom Tea Blend is a blend of Chinese Estate Green Tea, Madagascar Vanilla Bean, Golden Jasmine Blossoms, and French Lavender. You could use it, but it would honestly be a a waste of a very good tea that you can enjoy on it's own, without any milk or sugar added to it. Plus it wouldn't give you the flavor profile of a typical Hong Kong Milk Tea. Hong Kong Milk Tea is best prepared with fanning cut (fine cut) Ceylon Orange Pekoe as you want a very strong black tea flavor to hold up with the evaporated and condensed milk ingredients.