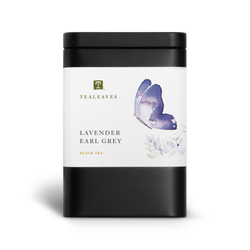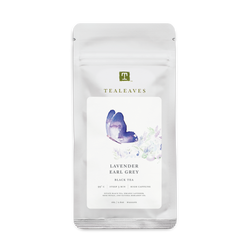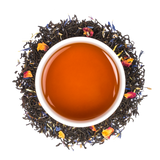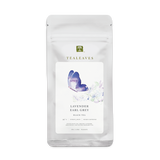 Lavender Earl Grey
Loose Leaf Tea | Black
A lovely floral and aromatic loose leaf lavender earl grey tea infusion that is both soothing and uplifting at the same time.
Aromatherapy
Mood Booster
Soothing
Blending Notes
Aroma

Floral & spicy

Palate

Expressive & opulent

Purpose

Stress relief, mood boost
Ingredients
Estate black tea, organic lavender, rose petals, and natural bergamot oil
Sustainability
Our loose leaf is packed in tins that are recyclable and can be disposed of in your blue bin. Our tins are also food-safe and can be repurposed for many things including spices and other dried ingredients. Learn More about sustainability at TEALEAVES.
Shipping & Delivery
Our Shipping and Delivery Policies for the US:
Free Standard Shipping on orders over $75.00 to the Contiguous USA. Our Standard Shipping time is 5-10 business days. Our Express Shipping time is 3-5 business days.

Wings flutter like excited hearts. Wafts of wind float delicate iridescence to playful heights. Why stay earthbound when the air is filled with such joy?
MAKE THE PERFECT CUP OF TEA
TEALEAVES
1 Tsp
Water
8 oz
Fire
210°F
Steep
2-3 Min
Your FAQs, Answered
For Lavender Earl Grey
Black tea is the only tea group in which milk, honey, lemon and sugar pair nicely with. In terms of food pairings, this tea would make a lovely addition to rich desserts such as cheesecake or a chocolate cake.
Although both Earl Grey and English Breakfast are black teas, the aroma and palate of these two blends is fundamentally different. Earl Grey contains oil of bergamont giving the tea a subtle citrus flavour. English Breakfast on the other hand, is quite bold and brisk, and leaves a dry biscuity flavour in the palate. Unlike Earl Grey, this tea is a delicate combination of Ceylon and Keemun.
Like all tea, black tea can be drunk whenever one sees fit. That being said, due to the high caffeine content associated with this tea type we recommend consuming this tea in the morning or early afternoon.
Yes, depending upon the palate experience in which you wish to enjoy, milk or oatmilk makes a wonderful addition to any Earl Grey. Of course, a London Fog is a delicious variation!