Creating the Universal Language for Aroma
Why is it so difficult to articulate what we are smelling?
The Art: Right Brain
"Aroma is a powerful trigger of memory; a brief whiff can create vivid, potent images in our mind, associated with a confluence of recollections." - Lana Sutherland | CEO, TEALEAVES
Exploring the relationship between aroma and mood, each blend is crafted in homage to a unique scent memory. The mood of Purely Peppermint is Refreshed.
The Science: Left Brain
Utilizing headspace gas chromatography to index scent molecules in our blends, and applying Microsoft's Principles of Inclusive Design to create codified data visualization, we created the first iteration of the Language of Aroma.
Discover our right and left-brained approach to articulate this ever elusive sense: LanguageOfAroma.com
Our Classic teabags use a renewable and sustainable material called Polyactic Acid (PLA), made from corn starch.
With 11 varietals to choose from, we hope you find peace in a teacup.
Customer Reviews
Write a Review
Ask a Question
Filter Reviews:
flavor
peppermint
home
delivery
bags
aroma
reFRESHING
magic
indulgence
Las Vegas
03/15/2021
Kimberly B.

United States
~ Love at First Sip ~
I first had this tea at the Ritz Carlton Central Park January 2020 as I waited for my spa treatment. I could not believe how present the peppermint flavor was. This brand and tea flavor is top shelf. It has stolen my heart forever!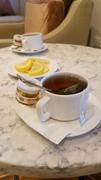 01/21/2021
Victor C.

United States
Unforgettable
The FRESH aroma combined with that first reFRESHING sip of tea is unforgettable. We were first treated to Purely Peppermint during our stay at the Waldorf Astoria in Las Vegas and simply could not forget the magic of this amazing tea. I decided to order it as an indulgence for us to enjoy so we never forget purely peppermint!
01/17/2021
Brian T.

United States
Great Tea
I do not drink much tea. But I love this peppermint tea.