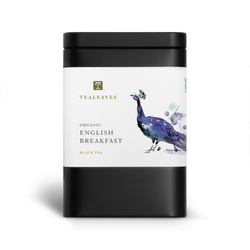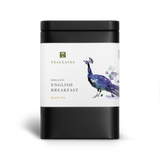 Organic English Breakfast
Loose Leaf Tea | Black
Organic Loose Leaf English Breakfast Tea is a biscuity breakfast blend of Keemun with a kiss of Ceylon.
Organic
Morning Ritual
Rejuvenating
Blending Notes
Aroma

Sweet & biscuity

Palate

Luxurious, layered, malty

Purpose

Poised focus
Ingredients
Organic black tea
Certified Organic by PACS
Sustainability
Our loose leaf is packed in tins that are recyclable and can be disposed of in your blue bin. Our tins are also food-safe and can be repurposed for many things including spices and other dried ingredients. Learn More about sustainability at TEALEAVES.
Shipping & Delivery
Our Shipping and Delivery Policies for the US:
Free Standard Shipping on orders over $75.00 to the Contiguous USA. Our Standard Shipping time is 5-10 business days. Our Express Shipping time is 3-5 business days.

Feathers iridescent fan keen and attentive eyes. With such elegance and poise, focus and awareness, nothing can ruffle such composure.
MAKE THE PERFECT CUP OF TEA
TEALEAVES
1 Tsp
Water
8 oz
Fire
210°F
Steep
2-3 Min
Your FAQs, Answered
For Organic English Breakfast
TEALEAVES is pleased to offer a variety of Certified Organic teas of the highest quality and palate. We undergo an annual organic audit by a third party auditor for all of our teas that are classified as "Organic". To classify as organic, the tea has to be grown without the use of herbicides, pesticides, and not GMO.
Blended true to origin, our Organic Loose Leaf English Breakfast Tea is a biscuity breakfast blend of Keemun with just a touch of Ceylon. Many other tea brands will use predominantly Ceylon and minimal Keemun, because Keemun is more expensive to blend with.
Like all tea, Organic English Breakfast can be drunk whenever one sees fit. That being said, due to the high caffeine content associated with this tea type we recommend consuming it in the morning or early afternoon.