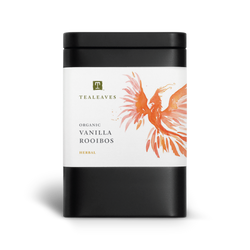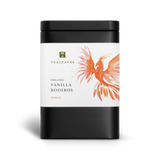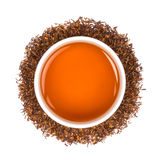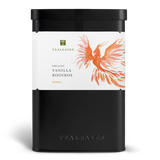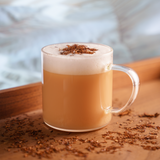 Organic Vanilla Rooibos
Loose Leaf Tea | Rooibos
Madagascar vanilla bean naturally sweetens this organic rooibos loose leaf tea, producing a round, full cup.
Organic
Vitamins &
Anti-oxidants
Wellness
Blending Notes
Aroma

Fragrant caramel

Palate

Opulent, creamy structure

Purpose

Rebirth
Ingredients
Certified organic rooibos, rose petal, and natural Madagascar vanilla flavor
Certified Organic by PACS
Sustainability
Our loose leaf is packed in tins that are recyclable and can be disposed of in your blue bin. Our tins are also food-safe and can be repurposed for many things including spices and other dried ingredients. Learn More about sustainability at TEALEAVES.
Shipping & Delivery
Our Shipping and Delivery Policies for the US:
Free Standard Shipping on orders over $75.00 to the Contiguous USA. Our Standard Shipping time is 5-10 business days. Our Express Shipping time is 3-5 business days.

Against the rising sun, an immortal feather floats. An auspicious sign of rebirth and renewal. Well-being and longevity for generations to come.
MAKE THE PERFECT CUP OF TEA
TEALEAVES
1 Tsp
Water
8 oz
Fire
212°F
Steep
5+ Min
Your FAQs, Answered
For Organic Vanilla Rooibos
TEALEAVES Organic Vanilla Roiboos does not contain any caffeine as it does not come from the camellia sinensis plant.
As there is no caffeine/stimulant in rooibos, just like most other herbals, drinking an herbal infusion counts as an enhanced water intake.
Rooibos does not contain any ingredients that would cause one to feel sleepy or drowsy. However, due to this blend's herbal nature, this uncaffeinated tea does not have the same "energy" enhancing properties that typical caffeinated teas will have.