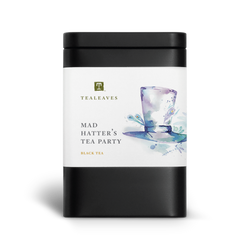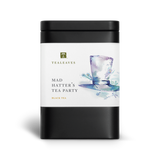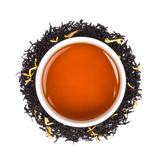 Mad Hatter's Tea Party
Loose Leaf Tea | Black
A "civil cuppa" of unique fruity black tea for the Mad Hatter, Dormouse, and Hare!
Morning Ritual
Aromatherapy
Mood Booster
Blending Notes
Aroma

Sweet & fruity

Palate

Approachable sweetness

Purpose

Head down the rabbit hole
Ingredients
Black tea, essential oils of natural fruit, passion fruit, vanilla, and marigold flowers
Sustainability
Our loose leaf is packed in tins that are recyclable and can be disposed of in your blue bin. Our tins are also food-safe and can be repurposed for many things including spices and other dried ingredients. Learn More about sustainability at TEALEAVES.
Shipping & Delivery
Our Shipping and Delivery Policies for the US:
Free Standard Shipping on orders over $75.00 to the Contiguous USA. Our Standard Shipping time is 5-10 business days. Our Express Shipping time is 3-5 business days.

Eclectic cups, chairs and companions conduct controversial conversations. Flights of fancy float amongst decadent desserts while riddles remain unanswered - a Mad Hatter's dream.
MAKE THE PERFECT CUP OF TEA
TEALEAVES
1 Tsp
Water
8 oz
Fire
210°F
Steep
2-3 Min
Your FAQs, Answered
For Mad Hatter's Tea Party
Like all tea, black tea can be drunk whenever one sees fit. That being said, due to the high caffeine content associated with this tea type we recommend consuming this tea in the morning or early afternoon.
Black tea should be steeped for 2-3 minutes at a temperature of 210°F or 99°C.
Black tea is the only tea group in which milk, honey, lemon and sugar pair nicely with.