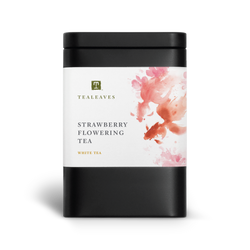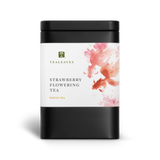 Strawberry Flowering Tea
Flowering Tea Ball | White
These hand-sewn tea blossoms are an ancient tradition from the Yunnan province, said to bring good fortune and luck to the tea drinker. Releasing decadently ripe strawberry essence as they delicately unfurl, a dazzling tea experience.
Contemplative
Optimism
Soothing
Blending Notes
Aroma

Sweet, light liquoring

Palate

Fruity & vibrant

Purpose

Delight in sweet moments
Ingredients
Hand-sewn white tea blossoms with natural strawberry flavor
Sustainability
Looking closely at our own practices, we identified waste reduction as an important area of improvement. We are committed to transitioning from linear packaging practices to circular practices. Learn More about sustainability at TEALEAVES.
Shipping & Delivery
Our Shipping and Delivery Policies for the US:
Free Standard Shipping on orders over $75.00 to the Contiguous USA. Our Standard Shipping time is 5-10 business days. Our Express Shipping time is 3-5 business days.

Delicate whorls of sweet petals revel in the winds above, while paper-thin fins fan through waters tender caresses below. Grace and good fortune unfurl with each move.
MAKE THE PERFECT CUP OF TEA
1 Flowering
Ball
Water
16 oz
Fire
180°F
Steep
3 Min
Your FAQs, Answered
For Strawberry Flowering Tea
White tea should be steeped for 3 minutes at a temperature of 180°F or 89°C.
Flowering teas are carefully hand-sewn, one by one, crafted to beautifully unfurl when submerged in (just before) boiling water.
To showcase the beauty of the flowering tea as it unfurls, we recommend steeping the flowering tea ball in a heat-proof glass teapot on a glass warmer, or a glass tea cup. This makes for a lovely table centerpiece as well.