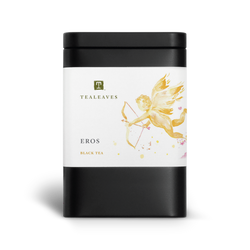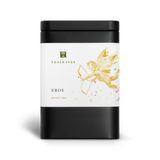 Afternoon
Pick-Me-Up
Mood Booster
Romance
Blending Notes
Aroma

Orange & vanilla

Palate

Smooth, sweet, and creamy

Purpose

Fall in love
Ingredients
Black tea scented with essential flavors of natural mandarin orange and madagascar vanilla
Sustainability
Our loose leaf is packed in tins that are recyclable and can be disposed of in your blue bin. Our tins are also food-safe and can be repurposed for many things including spices and other dried ingredients. Learn More about sustainability at TEALEAVES.
Shipping & Delivery
Our Shipping and Delivery Policies for the US:
Free Standard Shipping on orders over $75.00 to the Contiguous USA. Our Standard Shipping time is 5-10 business days. Our Express Shipping time is 3-5 business days.

Golden wings hover. Bow pulls taunt. Arrows draw. Love's winged messenger unites two fortunate souls into one. Treasure each precious moment.
MAKE THE PERFECT CUP OF TEA
TEALEAVES
1 Tsp
Water
8 oz
Fire
210°F
Steep
2-3 Min
Your FAQs, Answered
For Eros
At TEALEAVES, if you ask us for a black tea kissed by the brightness of citrus and the creaminess of vanilla, that would be Eros. Blended for St. Valentines but embraced year round, this "upscale creamsicle" makes for a scrumptious cup. Sweet Mandarin orange and warm vanilla passionately embrace Ceylon black tealeaves. It's time to fall in love.
TEALEAVES only uses the highest quality, natural ingredients. Therefore, yes, our Madagascar vanilla bean adds a creamy deliciousness to select teas, as determined by our Master Blender.
Black tea should be steeped for 2-3 minutes at a temperature of 210°F or 99°C.