Pantone Color of the Year 2020
Loose Leaf Tea | Herbal
The official bespoke tea blend of the Pantone Color of the Year 2020, PANTONE 19-4052 Classic Blue. 
Skies of blue. Oceans of life. Palates of purpose. A new era dawns at dusk.
Blending Notes
AROMA: Sweet fruit perfume, memorable citrus
PALATE: Tranquil mélange of peaceful berry notes
PURPOSE: Expand horizons
Inspired by the rich symbolism associated with PANTONE 19-4052 Classic Blue, TEALEAVES' Master Blenders have used the highest grade botanicals to blend a wellness-oriented herbal berry mélange; the epitome of a perfect palate expression.
Ingredients
Butterfly pea flower, lemon verbena, lemongrass, rose petal and Firmenich flavor
Pantone Color of the Year 2020 blend invites the new decade with notes of tranquility, dependability, and elegance.
Masterfully blended to steep a brilliant blue hue, this blend showcases the timeless sophistication of PANTONE 19-4052 Classic Blue. Evocative of the sky at dusk, Pantone Color of the Year 2020 blend is a dependable and poised blend.
This wellness-oriented mélange of the highest quality botanicals can be enjoyed hot, iced, or infused in a tea cocktail or zero-proof beverage. With the addition of citrus, watch as the Classic Blue tone transforms into a brilliant violet hue, evocative of the shades of the night sky at dusk.
Read on, to discover more about this transformative blend.

Welcome the new decade with Pantone Color of the Year 2020 PANTONE® 19-4052 Classic Blue.
"A boundless blue evocative of the vast and infinite evening sky, PANTONE 19-4052 Classic Blue encourages us to look beyond the obvious to expand our thinking; challenging us to think more deeply, increase our perspective and open the flow of communication."
- Leatrice Eiseman | Executive Director, Pantone Color Institute™
Partners with Pantone in curating colorful experiences since 2015, TEALEAVES has created the official bespoke tea blend to harmonize the color, aroma, and taste of Pantone Color of the Year 2020 PANTONE 19-4052 Classic Blue.
Uncover the full launch of the Pantone Color of the Year 2020 PANTONE® 19-4052 Classic Blue here.
Customer Reviews
Write a Review
Ask a Question
Filter Reviews:
taste
aroma
amount
waters
blue skies
packaging
friends
flavor
beverage
home
03/27/2020
Sydni N.
United States
Good Quality and Delicious Experience
As a designer and tea-lover, I loved the idea of getting tea that would turn into the color of the year! I was not disappointed and the experience was really fun. The taste was great, as someone that likes floral and citrus. I even added some lemon juice to give it more of a kick and change it to be purple!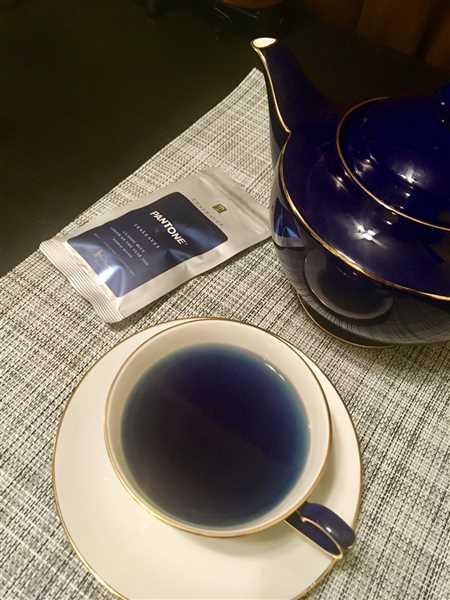 03/27/2020
Jeremy G.
Canada
Fabulous
Your product; quality, flavour, design and delivery, was all completely top shelf. This is some of the best tea I have ever had. I will be regularly buying products from you, so keep the good stuff coming. Thank you so much. jtg
03/27/2020
Amelia
United States
Cool Color, Okay Flavor, Amazing Smell
The taste wasn't much to write home about, but the smell of this tea, especially just the leaves, was wonderful. I don't know if I'd buy the larger case of it, but the small package for I believe 5 cups of tea was definitely worth it. And of course the color was super cool. This would be good to serve to friends at a get together and show off the color of the tea. Don't see a purely blue beverage too often!