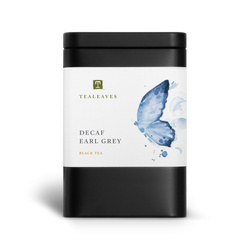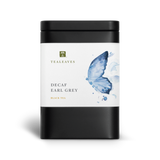 Aromatherapy
Mood Booster
Rejuvenating
Blending Notes
Aroma

Delicate citrus

Palate

Light-bodied & smooth

Purpose

Boundless joy
Ingredients
Decaf estate black tea, natural bergamot oil.
Sustainability
Our loose leaf is packed in tins that are recyclable and can be disposed of in your blue bin. Our tins are also food-safe and can be repurposed for many things including spices and other dried ingredients. Learn More about sustainability at TEALEAVES.
Shipping & Delivery
Our Shipping and Delivery Policies for the US:
Free Standard Shipping on orders over $75.00 to the Contiguous USA. Our Standard Shipping time is 5-10 business days. Our Express Shipping time is 3-5 business days.

Soft petals call, beckon, promise of a gentle touch. Inspired wings drift, guide, relax while in floral unison. Joy in its true form.
MAKE THE PERFECT CUP OF TEA
TEALEAVES
1 Tsp
Water
8 oz
Fire
210°F
Steep
2-3 Min
Your FAQs, Answered
For Decaf Earl Grey
Our teas are decaffeinated using the CO2 method, an environmentally friendly, chemical-free, water process.
With our CO2 method, our Decaffeinated Earl Grey is 99.9% caffeine free.
Depending on your level of caffeine sensitivity, yes you can drink decaffeinated tea at night.
Yes, you can drink decaf Earl Grey with or without milk (or dairy substitute) because it is a black tea that has had the majority of the caffeine stripped from it, but none of the flavor or characteristics of a black tea (therefore it can support a splash of milk).
The majority of the caffeine is stripped from our Decaffeinated Earl Grey. If you are extremely caffeine sensitive, as no decaffeination process is 100%, you may want to consider herbals such as rooibos for the body of a black tea without the caffeine (because rooibos is caffeine free by nature).